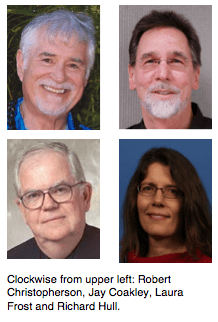 Four candidates are running for two open positions on the TAA Council, the association's governing board. Terms begin July 1, 2014. Council members serve three-year terms.
Robert Christopherson is an Emeritus Professor of Geography at American River College and author of several leading geography textbooks.
Jay Coakley is the founding editor of the Sociology of Sport Journal. 
Laura Frost is the Director of the Whitaker Center for STEM (Science, Technology, Engineering, and Mathematics) Education and Professor of Chemistry at Florida Gulf Coast University.
Richard Hull is TAA's former Executive Director and the author of two textbooks and multiple academic monographs and journal articles.
Visit the TAA website for full candidate bios and position statements. [Read more…]