Thirty-five authors participated in TAA's six-week Fall 2020 Writing Gym, which was held October 5-November 16. The gym included templates for tracking writing time and developing a six-week workout plan, a TAA Writing Gym-branded writing journal, weekly inspirational emails, 6 on-demand writing classes, several writing stations that allowed participants to target specific writing areas, and a Facebook Group for networking with other gym members.
In a survey sent out after the close of the fall gym, the majority of respondents gave the gym 5 stars. "The weekly writing classes and blog articles in the Writing Gym were very helpful, especially those about time management, managing multiple projects, and revising," said participant Andrew Reyes. Participant Su-Jin Jung said: "I appreciate your support of my writing. I got lots of writing done during 6 weeks." 
[Read More]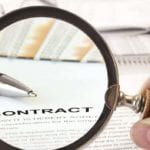 It has an intimidating name. Indeed, it takes more letters to spell it than to put it into effect. But what is it and why is it bad for authors?
Most every book publishing contract will include a provision that obligates the publisher to periodically account to the author for the publisher's sales of the author's work. The language will probably look something like this:
Payments to the Authors will be made semiannually, on or before the last day of March and September of each year for royalties due for the preceding half-year ending the last day of December and June, respectively. If the balance due an Author for any royalty period is less than $50, no payment will be due until the next royalty period at the end of which the cumulative balance has reached $50. Any offsets (including but not limited to any advances or grant) against royalties or sums owed by an Author to the Publisher under this or any other agreement between the Author and the Publisher may be deducted from any payments due the Author under this or any other agreement between the Author and the Publisher.
[Read More]
Some things are nearly certain in academic writing – especially uncertainty. Our collection of articles from around the web this week begins with embracing uncertainty for greater productivity and includes other valuable insight and resources.
Included in the list are the value of intellectual engagement, prompts for writing with literature, visuals in research, and safeguarding your research. The key to overcoming uncertainty, however, is to write. And to write now. Henry David Thoreau once said, "Write while the heat is in you. … The writer who postpones the recording of his thoughts uses an iron which has cooled to burn a hole with." Happy writing!
[Read More]