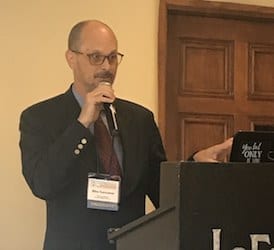 During the 2018 TAA Awards Ceremony on June 15th in Santa Fe, NM, in addition to honoring our twenty-six Textbook Award winners, four individuals were honored with TAA Council awards recognizing exemplary contributions to the Association and the authoring community.
The awards were given by Mike Kennamer, TAA Council President during the ceremony. His remarks on each of the winners is included below. [Read More…]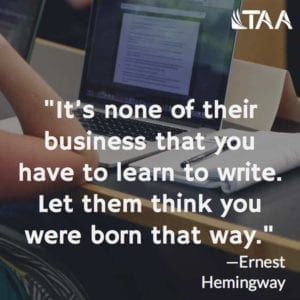 This week's collection of posts begins with articles focused on some of the writing challenges you may face – literature reviews, projects lost to life, grant application development, and other barriers that stop the publishing process at times. It continues with advice on writing with purpose, publishing for impact, transparency in peer review processes, surviving the doctoral defense process, and ways to maintain your mental health when making academic moves. We close with some insight into the impact of journal growth on impact factor, an open study on academic writing practices, and a look at how Google may be a journal publisher.
Ernest Hemingway said "It's none of their business that you have to learn to write. Let them think you were born that way." Whether you are learning with us this week at the TAA Conference, currently enrolled in a graduate program, or simply continuing to improve your writing craft through self-study and daily experience, write like you were born that way! [Read More…]
Congratulations! Your book is written. It passed peer review and the final changes have been made. It's with the publisher and they are full steam ahead. They anticipate publication in four or five months. It is now seeming all too real. But that pesky marketing reminder keeps popping up on your calendar. Your day is already jammed packed. How will you fit it all in?
One of your published colleagues raved about the power of their author website and the results they saw. Another said blitzing social media brought them great contacts and increased visibility. With your limited schedule, which should you do?