2014 TAA Conference attendees participate in contract negotiation role-playing exercise during Stephen Gillen's "Legal Update" session.
Q: "I am in the process of negotiating my second contract to write a test bank. The first contract was for a flat fee. I wrote a total of 490 multiple choice, true/false and fill in questions for a 14 chapter criminal justice book. The book was going into its 3rd edition and I think it is a big seller. [Read more…]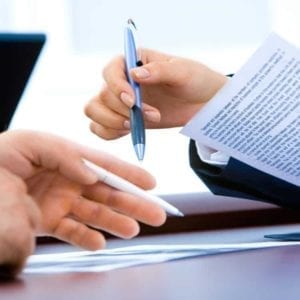 The most important things to negotiate in a first contract are the amount of the advance, the royalty rate and who will control which rights, said Jeff Herman, owner of the Herman Literary Agency in New York.
Keep in mind when negotiating the advance how the publisher calculates it, Herman said: "It will tell you how far they're willing to go." To calculate how much of an advance it will offer, the publisher looks at the number of books it will sell during the first year and the dollar amount the author will receive per copy. For example, if the author will receive $2 per copy, and the publisher will sell 10,000 copies the first year, the author will earn $20,000 in royalties. That $20,000, he said, is the highest the publisher will be willing to go in negotiating the advance.
"The publisher will generally low-ball you, especially if you have an agent, because it will assume that the agent will negotiate what is offered," Herman said. "If the author is negotiating the advance, the initial offer will be closer to their limit." [Read more…]