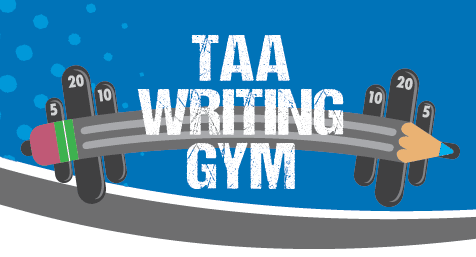 Flex your writing muscles in the TAA Writing Gym! This 6-week work-out-on-your-own gym time will serve as your writing accountability partner as you work to achieve your writing goals. The gym is open to those writing textbooks, scholarly journal articles, and dissertations.
Here's what previous Writing Gym participants have had to say:
"The presentations are very inspiring. Over the last two weeks, I managed to complete and submit a manuscript that I stopped working on for 3 months now and to start the outline for my textbook." – Andrea McDonald, Ph.D., Assistant Professor, Prairie View A&M University, Department of Health and Kinesiology
"I am enjoying the writing gym and it is helping me focus my writing practice in a time of complete overwhelm." – Julie P. Combs, EdD, author of 5 books including The Trust Factor (Routledge) and most recently, Foundations of Academic Writing: Learning to review research literature (lulu.com)
The gym will be open 24/7 from October 5 to November 16, 2020. Gym time includes:
A TAA Writing Gym-branded writing journal
Weekly inspirational emails
Several writing stations that allow you to target specific writing areas
A participation certificate (view sample)
At the end of each week you'll be asked to share your accomplishments for weekly prize drawings.
Members: $49
Non-Members: $99 (includes a one-year TAA membership)
The deadline for signing up is September 28. We hope you'll join us!