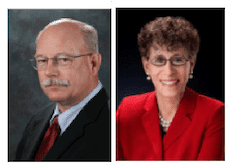 Are you wondering what the recently announced merger between textbook giants McGraw-Hill and Cengage could mean for authors? Join publishing attorney Steve Gillen and textbook author and Monroe College professor Karen Morris for their session at TAA's 32nd Annual Conference entitled: "Mergers and Acquisitions Among Publishers: Authors Need a Life Jacket."
Gillen and Morris will discuss the recent history of consolidation in educational publishing. How does it impact an author's career? What can you do to prepare for the possibility? What should you do if it happens to you? What options exist if new relationships don't go well? Get answers to these and related questions, and ideas on how to survive well.
Gillen teaches Electronic Media Law at the University of Cincinnati College Conservatory of Music. He worked for nearly 20 years in publishing prior to entering private practice in the middle 1990's. He is presently a partner at Wood, Herron & Evans (a 145-year-old Cincinnati law firm focused on intellectual property) where he concentrates his practice on publishing, media, and copyright matters. Gillen is also the author of Guide to Rights Clearance & Permissions in Scholarly, Educational, and Trade Publishing, Guide to Textbook Publishing Contracts and coauthor of Writing and Developing Your College Textbook: A Comprehensive Guide.
Karen Morris is a past president of TAA, and a Distinguished Professor of Business Law. She writes textbooks in the fields of Hospitality Law, Criminal Law, and Business Law. Her books have won a McGuffey Longevity Award and a Textbook Excellence Award.
TAA's 32nd Annual Textbook & Academic Authoring Conference will be held in Old City, Philadelphia, June 14-15, 2019. Register today and start making your travel plans.